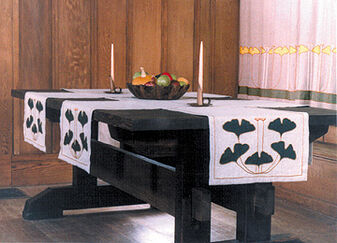 Your dining table was most likely a major home design as well as monetary investment. It would be great to protect it and prolong its life for as long as possible. That's where table linens come in. Whether it's from a steaming hot dish, or a family member with an unsteady grip on his or her glass of red wine, your table linens tend to serve as the first and only line of defense against you and your dining table. Whether you opt for a tablecloth, placemats, cloth napkins , or a combination of all three, try to be nice to your dining table with the assistance of your little linen, cotton, wood, or felt friends.
Table Cloths
Edit
Tablecloths are the base of your table setting as well as the ultimate protection of your table. Tablecloths are the foundation of your table setting. What sort of statement are you looking to make? For a formal meal, or perhaps to conceal an unsightly dining table, a full tablecloth is a smart solution. For a simpler and more minimal setting, or to highlight a beautiful dining table underneath, only a table runner may be necessary.
Use Placemats and Napkins as Decorative Accents
Edit
Placemats and napkins are the next layer of table setting. If your tablecloth is more muted and subtle, or if you skipped out on using one all together, consider being bold and having more fun with the placemat and napkin selections — perhaps a colorful graphic print or unusual material selection. 
There are no rules when it comes to your table setting decisions. It's fun to pick table linens to match the theme of your home or a holiday meal, but the investment and longevity of the table linens isn't necessarily worth sticking strictly to one rule or another — have fun with the process, and your meal will also make for a festive affair.