Organizing your home (and in particular your closet) can be an overwhelming and time-consuming task, especially when there are so many storage products to choose from. If you're frantically searching for a way to organize your clothes,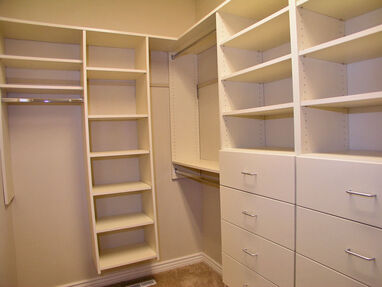 shoes and accessories, don't stress: There is a solution for all of your storage dilemmas.
Although custom built-in closets are the cream of the crop, baskets, bins, hooks and shelves can be just as effective. There are many versatile, inexpensive ways to design your dream closet when you look with clear eyes at your space and think creatively.
Use baskets, boxes and bins to store small accessories. If you have plenty of shelves but no built-in dresser or drawers, create your own storage by placing hats, scarves, belts and purses into storage containers. Closet organizers come in a variety of sizes and materials — including wicker, wire, plastic and fabric — so they can even add some personality and decor to your closet.
Save space by opting for hanging organizers. When closet space is limited, go vertical by investing in hanging organizers or hooks. Hanging shoe racks are popular, affordable ways to group your shoes. Hanging organizers with large cubbies work well for sweaters or sweatshirts. If you have a walk-in closet, save room on your clothes rack by adding closet door hooks to store bulky coats or purses. Multitier hangers are an inexpensive option for pants, jeans and ties.
Add shelf dividers for easy organizing. Avoid a jumbled, cluttered shelf by using space-efficient plastic or metal dividers. They create specific spots for sweaters, shoes and handbags, saving you time while you're getting dressed in the morning.
When the closet is full, use underbed organizers. If your closet space just doesn't cut it, use the storage space under your bed. Some convenient containers even include wheels to make them easy to move in and out. They're a great way to store seasonal items, including sweatshirts, coats, boots and extra blankets.
Invest in high-quality, custom built-ins. If you're looking for something durable and reliable, splurge on a built-in closet. With a custom storage system, you can accommodate your specific, personal needs. With all the extra shelves, drawers, cabinets and clothes racks, you will have plenty of room to expand your clothes collection over the years.