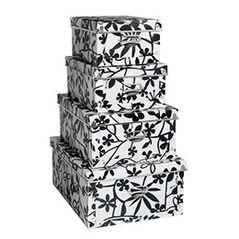 Household storage is something that there never seems to be enough of. Home accessories and decor is another. If you get it right, storage boxes can kill two birds with one stone. Whether used individually or in a matching set, storage boxes can add visual layers to a space in a controlled and organized way — simultaneously eliminating the visual chaos that so easily can clutter your home.
Using Storage Boxes
Edit
 In the home office or studio, storage boxes are great for holding on to paper records, material samples, or other printed pieces. While the look of the chaotic and cluttered artist's studio may be creative and passionate, a tidy workspace promotes a productive workspace. Spend less time searching for that one piece of paper and more on your next masterpiece.
Organizing Closet with Storage Boxes
Edit
 With a few well labeled or clear plastic storage boxes stacked an open closet shelf, even the most cluttered of closets can be transformed into an organized heaven. 
Decorative Storage Boxes
Edit
Storage boxes are great for their strictly functional tasks of quietly keeping your clutter out of sight and out of mind, but often times boxes for storage are just too beautiful to be hidden in a closet or on office shelves. Storage boxes also serve as the treasure chests for your valued belongings — don't neglect the beauty of the container. In the living room on an expansive coffee table or empty bookshelf, an antique hand-carved wooden box or silver tin, beside some heavily read books or a figurine that was picked up while on a college semester abroad can be just the right amount of flair needed to complete a room. Moving from the shelves to the floor of the living room, an oversized storage trunk or old hat box can keep blankets, pillows, and other cozy knits cleanly and easily organized and accessible.