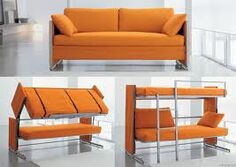 Trying to figure out how to squeeze in extra sleeping space for guests? A sofa bed could be just the solution, especially since new innovations in design have made them more comfortable than they were in the past. Quality, comfort and size are key in this purchase, so be sure to know what you want before making a decision.
What Should You Look in Sofa Itself?
Edit
Even if you're purchasing a sofa bed for the bed , it will likely be used more often as a couch. So, keep in mind the same considerations you'd use for buying a regular sofa : size, style and comfort. 
How do You Know Whether it will Fit?
Edit
Consider carefully the room you plan to place the sofa bed in. Remember that when pulled out, the bed will take up significant room : you want it to fit comfortably within the space while still allowing room to maneuver around the bed. Take careful measurements of both the sofa bed and room to be sure your purchase is appropriate in size.
What Size You should Get?
Edit
 Like beds, sleeper sofas come in twin, full, queen and king sizes. If you're working in a particularly tight space, a twin-sized sofa bed (commonly known as a chair bed) will fit and still serve the same function. A sleeper sofa outfitted with a double bed is usually sized between a typical couch and love seat, so it may work better in a slightly larger space. If room is on your side, try a sleeper sofa with a queen or king size bed to maximize sleeping arrangements.
Is the Sofa Bed Mattress Comfortable?
Edit
his is the ultimate question: buy an uncomfortable mattress, and you'll find your guests preferring the floor to the bed. Test it out like a regular mattress and be sure it supports the shoulders, hips and lower back. The thickness of the mattress doesn't necessarily mean extra comfort: the construction is what matters most. A good measure of quality is how many coils the mattress has: a full-sized mattress should have about 300 while a queen will have closer to 400.
What Type of Frame Should You Look for?
Edit
Remember sleeping on those old sofa beds with metal frames that poked you in the back all night long? This is exactly what you want to avoid. Instead, go for a kiln-dried hardwood frame for a strong and durable option that will not only last you, but won't mutate into uncomfortable angles. 
Be Sure to Test it Before You Purchase.
Edit
Not only does it need to be comfortable, but it needs to function appropriately as well. The bed should lift up and out easily in one fluid motion without squeaking or sticking, and the inner mechanisms should be smooth so linens don't rip. Look for one with a lock-down bar to ensure it opens and closes properly.