Everyone wants his or her roof to be the most unique and attractive. People who are building their homes often find themselves checking out every home they visit for the roof designs. The most significant thing about different designs is the style and shape of the design. The questions that you need to ask yourself before selecting and finalizing any design amongst the various roof designs is, whether it will go along with the style and shape of your home? You also need to consider that whether it will match with the general style of your neighborhood houses or buildings.
Though the above-mentioned factors play a major role in selecting roof designs but there are other considerations too. Your roof design will obviously play a very major role in the overall look of your house and it can either add a glamorous final touch to it or devastate it. Apart from that, you should also think about the total pric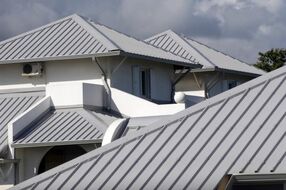 e that you can afford and the maintenance that will be required by that particular roof design. Since your roof is going to be a life long friend so pay attention of these considerations before choosing amongst various roofing designs.
Think about the style of your house before selecting roof designs. For example if you are the proud owner of a simply structured house then go for some simple design that has a small number of 
intersecting surfaces. Such designs are easy to install and create a simple yet beautiful look. They require very less maintenance over long years and they are quite inexpensive and easy to build. It is easy to install gutters and maintain them on simple roof designs. There are quite a number of valleys, clog points and other such spots that need to be cleaned and taken care of on a regular basis. Thus you require very less effort to maintain it for prevention of leakages and seepage.
Thus a simply styled roof is both practical and efficient. The look of your home will be brilliant only if the roof is in good condition. Since you will need to do little for maintaining your roof, your house will also remain neat and tidy and look great. So you can very well imagine that selecting the correct roof design plays a major look in deciding the future of not only your roof but also your entire home.
Roof Types</li>
Roof Maintenance</li>