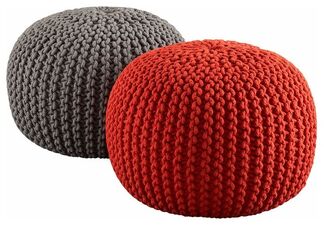 If you're looking for an accessory that can be utilized as a foot rest, coffee table, storage and more, then an ottoman may be your answer. Available in a variety of styles and colors, an ottoman or cube can be the final touch to your design scheme while also proving highly useful. Be sure to learn a little about this handy piece of furniture before making your choice.
Why Ottoman is Useful?
Edit
Everyone likes a place to comfortably rest their feet, which is the primary use of ottomans. However, their function has evolved: now they can double as coffee tables, spots for seating, a decorative accessory, and more. Take a look at your space to determine how an ottoman might benefit you.
What Shapes are Available?
Edit
Ottomans are generally round, square, or rectangular, with each shape available in a variety of sizes. Round ottomans are great for adding an unexpected shape to a living space with primarily rectangular furniture, while, adversely, square ottomans work well to complement such a layout. Smaller, cube ottomans are a form of square ottomans: these are great for sneaking in extra seating space, or to create an extra long coffee table by pushing several together. Rectangular ottomans often double as coffee tables, and can be custom made to fit the length of your sofa.
What Size Should You Consider?
Edit
 Size is definitely important when choosing an ottoman, and depends on where you're putting the ottoman and with what it will be paired. Not only does it need to be in direct proportion of the furniture it's complementing, but it also needs to be the same height to create a comfortable relationship between the two. 
What Materials Should You Consider?
Edit
Like furniture, there are many options available when choosing upholstery for your ottoman. Begin by considering what type will best complement your living room, and whether you want the ottoman to be a stand-out piece or blend with the surrounding décor. Generally, ottomans are in fairly constant use; leather is a great choice for durability and resistance, as well as comfort. Complement your furnishings with a patterned fabric, or try a memory foam ottoman for a lightweight option that can take on many looks through slipcovers.
What Kinds of Styles are in the Market?
Edit
Ottomans can actually prove to be much more functional than you may realize. For extra storage, choose an ottoman that opens to reveal space for blankets, pillows and other living room knick-knacks. Or, go for one specifically designed to become a coffee table; many come with a tray so you can rest your feet as well as balance drinks or decorative items. Button-tufted ottomans are a great option for footstools: this classic and affordable design keeps the foam and cotton filling from shifting which may happen after repeated use. Believe it or not, there are even sleeper ottomans available.