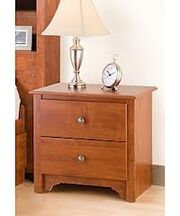 Bedside tables are not only home to alarm clocks, books and lamps, but they also provide a decorative function by anchoring the look of your bed . Though most bedside tables serve the same purpose, they're available in a range of styles, sizes and storage capacities, so it's important to understand exactly what you're looking for before purchasing.
What Style is Best for Your Bedroom?
Edit
Look at the style of your bed as well as your entire bedroom to figure out what's best for your nightstand. You'll want the style to complement your bed, not detract from it. If you have an eclectic vibe in your bedroom, consider looking for something vintage. If your bed is sleek, low to the ground and contemporary, a Parsons-style nightstand might do the trick.
What Size Should Your Nightstand be?
Edit
It's important that your nightstand be in direct proportion to your bed in terms of height and width. A too tall or too short nightstand is not only uncomfortable to use, but will likely make it uncomfortable to read in bed if decorated with a reading lamp. Look for a nightstand that's within a few inches of the top of your mattress. In terms of width, you want the nightstands to complement the bed, not overpower it or feel too small. Find something that fits the space and creates a cohesive look with the bed.
What if You Only have Room for Small Nightstand?
Edit
Don't worry: it can still be functional. You simply have to think about what absolutely needs to be in or on the nightstand to use the space wisely. Anything that can be moved to the walls or other spaces (lighting, photographs, books) should be cleared from the nightstand.
What Type of Material Should You Consider?
Edit
Start first by determining the style you'd like to represent. If you're thinking contemporary, look for a nightstand outfitted in polished chrome or stainless steel. If you want something that is timeless and will last for years to come, get a well-made solid wood nightstand. Want a vintage feel? Go for brass or wrought iron.
What Color Should You Look For?
Edit
Since nightstands are smaller, they may be a fun furniture piece to inject a playful accent color in your bedroom. Analyze the current colors to decide which accent color will enhance your current scheme. Blend your nightstands with your bedding by choosing a neutral shade. Another option is to add a natural or organic touch with a nightstand with an oak or maple finish.
Do You Need Additionanl Storage in Your Bedroom?
Edit
Look for a nightstand with ample drawers or shelves to tuck things away.