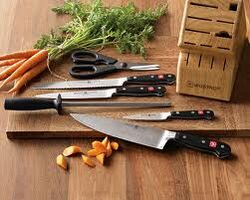 For those who are always on the lookout for the best and brightest kitchen technology, there is always some new kitchen tool on the must-have list. Today it's easy to find tools that cut, dice, grate and zest (or all of the above), but the space to store all these handy new contraptions is another issue entirely. When stocking your kitchen, it's important to differentiate between the have-to-have tools and the wish-list tools. Don't worry: Once you have all the necessities, you can then finally purchase that adorable nutcracker or extra kitchen timer.
Although the basic kitchen tools might vary depending on your food preferences, there are several essentials: a can opener, a spatula, a cutting board, a knife set, kitchen shears, a strainer, a whisk, measuring cups and spoons, and mixing bowls. When cooking meat, a meat thermometer, tongs and a basting brush come in handy, while bakers would enjoy a rolling pin and cooling racks. When purchasing your next kitchen tool, keep in mind what you cook the most and buy accessories to make that process easier.
If you already have the basics covered, then go for more specialized, task-specific tools. Vegetable peelers, cheese graters and zesters help the peeling, grating and zesting process go easier, while a cheese board and breadboard make entertaining a breeze. During the holidays, a turkey baster produces an even more delicious Thanksgiving meal, while cute snowflake- or tree-shaped cookie cutters create festive, fun cookies. But don't forget: If you buy it, you store it, so make sure you have plenty of room for all your purchases.