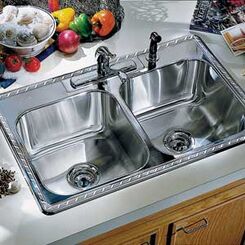 Although picking out a kitchen sink and faucet might seem like an easy decision, it is an important one to make, as it will impact both the usefulness and overall design aesthetic of your space.
As one of the most utilized parts of the kitchen , a sink should be above all practical. Before making a purchase, make sure to consider what style works best for you. A double- or triple-bowl sink allows you to wash and dry dishes simultaneously, which is helpful when you have a large number of plates after each meal. If you have several oversize pots and pans, it might be best to opt for a farmhouse, farm or apron-front sink, which is deeper and offers more washing real estate.
While the practicality of the sink should be your first consideration, you should also keep in mind what kind of sink works best with your personal design style. A traditional stainless steel sink isn't going to look trendy in a modern kitchen, but a farmhouse sink can work in either a country kitchen or a contemporary kitchen. If you're looking for quirky and unique, you can always try a colored or copper sink.
Once you've picked out the right sink, make sure to find a faucet that works well with it. If your sink is traditional, make sure to stick with a traditional faucet and fixture; otherwise your room will look confusing and poorly done. It's also key to keep with similar or complementary colors. A gold faucet would clearly clash with a stainless steel sink; black or dark brown would pair well with a copper sink. If you keep in mind the entire final picture, you will ensure that your room looks cohesive and well designed.