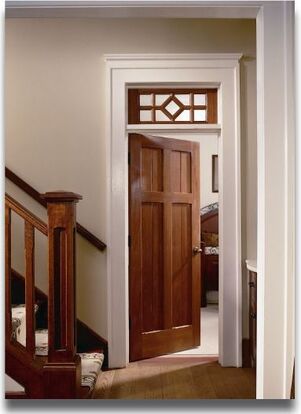 Everyone likes to make an entrance, and interior doors not only enhance privacy and keep closet storage hidden, but they add to enhancing the design of your home interior. To determine what type of door is best for you and your needs, consider where the door will be placed, how often the door will be used and whether blocking noise is of importance.
What Types of Doors are Available?
Edit
 Interior doors are usually available as standard hinge doors, bypass doors, folding doors or pocket doors. Standard hinge doors are ideal for closing off rooms as they shut securely and block noise. Bypass doors can add a stylish touch to closets and don't impede on space. Both closets and pantries can benefit from the easy access of folding doors. In areas where standard hinge doors won't have room to swing out, pocket doors, which tuck into the wall, may be a good solution.
What Style Door Should You Consider?
Edit
To begin, you need to choose whether you want a prehung door or a slab door. Also consider a french door style for your internal door. Prehung doors include the jamb and frame, and are easy to install. Slab doors are designed to utilize your existing jamb and trim and are more affordable. For a traditional look, choose a stile-and-rail door that features wood or glass panels sectioned off by horizontal and vertical rails and stiles. Made of wood veneer or hardboard, affordable flush doors feature flat surfaces.
What Type of Material Should You Think About?
Edit
To determine material, think about the use of the doors as well as whether you want them to block noise. For a lightweight option in low-traffic areas that will filter noise, try hollow core doors. For a sturdier door that will block noise, consider a solid core door. If you'd prefer something other than wood, you can find flush doors constructed in masonite or hardboard.
What Should You Consider in Terms of Installation?
Edit
To correctly install a door, you need to keep in mind the required door swing and handle placement as well as the door's measurement. To determine the door swing and handle placement, face a door that swing towards you. If the handle is on the left side, it is a left-hand door and vice versa. To figure out an appropriate size, measure the top, middle and bottom of the doorway, as well as top to bottom. Then figure out a rough opening size by adding 2" to the width and 3" to the height. 
What Features Might Add to Your Interior Doors?
Edit
 Block noise more effectively by choosing an insulated door that will dampen sound. Or choose a fire-resistant door to increase safety in your home. For decorative elements, consider adding mirrors or colorful panels to doors.