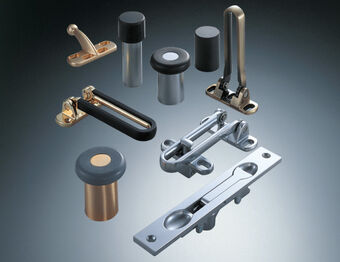 When it comes to home design, the little touches can make all the difference — they're often what makes a house feel like home. If you can't splurge on new furniture , you can still freshen up your space by switching up your hardware: It's time to change up those outlet covers and finally replace that retro sink faucet!
There are many inexpensive, quick ways to make your bathroom feel more modern. First, replace older bathroom faucets and towel bars or hooks with newer, contemporary models. If you do this, make sure to upgrade everything at once — including the bathroom light and shower fixtures — so the room doesn't seem mismatched. Add extra personality with fun, quirky cabinet pulls or knobs and colorful switch plates. You can even include a towel warmer for added luxury!
The bedroom is also a great room for adding those special touches. Dressers can get a quick renovation with a new set of handles or knobs, and windows can get a lift with a curtain rod and holdbacks. If you have wall shelves, even replacing simple brackets with improved models will help make it feel new. Although it might not seem like much, these small changes will help make your house truly one of a kind.