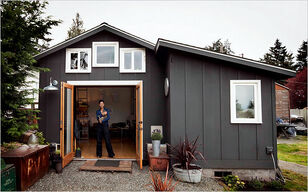 Your garage is more than just a way to keep your car out of the weather. Many homeowners use the garage as an additional storage space, but it can be so much more. Planning a garage remodeling can add value to your home and increase your usable living space.
The first step toward a garage remodeling is figuring out what you need. Do you simply need more storage space, or are you looking to add a workshop or home office? Extra storage space can be as simple as adding shelving and other organizing fixtures, while more extensive needs may call for more a more complex renovation. Depending on the layout of your home, you may be able to add a second story or extension to your garage. The extra floor space can be converted into whatever you need without sacrificing space for your car or other equipment. Even if you can't build an addition, you can still finish the garage as you would a basement.
A side benefit to garage remodeling is organizing your stored belongings. After all, you're going to have to go through everything you've stored in the garage, and for some of us that's quite a bit! You may find some things you just don't need anymore, or items you have a better place for. If you have a great deal stored in the garage, consider an exterior storage shed to increase space. It might even free up some space for that office.
Once you know what you want to remodel your garage into, start looking at some of the finer details.Your remodeling company will help design the project, but the more details you've decided in advance, the faster the process will be. The floor is one of the first places to start. Most garages make do with a simple floor of poured concrete. It's certainly functional, but it doesn't look very nice and can be difficult to clean – oil, grease and other fluids can make large unsightly stains on bare concrete. There is a large variety of roll-out polyvinyl flooring designed specifically for garages. Simply adding new flooring will make your garage seem more livable and much easier to clean.
Garage remodeling is a simple way to get the most out of your home. Whether you want a whole new office or just a better place to hang your tools , renovating your garage may be just what you need.