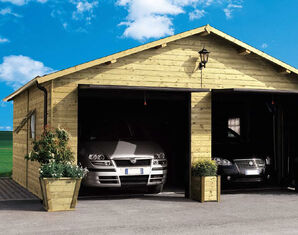 Garage and Shed
Edit
More and more homeowners are seeing the value of sheds — little detached structures or outbuildings where they can get away from it all. In the past, sheds were mostly used as storage space for unused furniture, suitcases and infrequently used items. These little buildings have since become small wonders of the home and are now used as garden sheds, toolsheds or storage sheds, outfitted with organizing and storage systems, furniture and sometimes equipment and wiring for a home office. Typically, a shed in which a car is stored is called a garage. But there are many houses with either attached or detached garages, and these garages are often turned into additional living areas. Whether you need an extra bedroom , a home office, a music room, a craft room or a playroom, garages are ideal candidates for extra living space. As with any home improvement project, you'll want to make sure that the converted garage will have enough ventilation and light, and will be cool in the summer and warm in the winter. You will also need to make sure the garage complies with local ordinances and building codes. 
Ad blocker interference detected!
Wikia is a free-to-use site that makes money from advertising. We have a modified experience for viewers using ad blockers

Wikia is not accessible if you've made further modifications. Remove the custom ad blocker rule(s) and the page will load as expected.