The exterior of your house is the face of your home and shares its style and personality with the neighborhood and those just driving by. It's the last thing you see of your home as you head into your day, and the first thing that welcomes you on your return. Its details and materials are just as important, even more so, as the crown molding, bath floor tile or your kitchen's backsplash. Materials such as stone, copper, wood, steel and brick can be used to finish a specific architectural style or create a new one.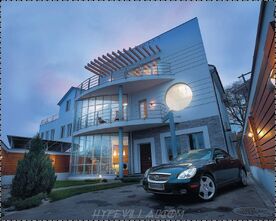 Your house's exterior paint color may be the most visible design decision you make, especially if showcased with exterior lights . The landscaping in the front and side yards offer both a welcoming transition from street to door and a buffer between your home and the public spaces it shares. Architects design a home's exterior for beauty, functionality, suitability with the lot, region, local building codes, and are guided by what you want as well as their own design influences and philosophies. It can be completely new and innovative, display a mix of influences or reflect the style of an earlier period. Popular home designs in the U.S. include Victorian, Queen Anne, Colonial Revival, Tudor, Cape Cod, Mediterranean, Craftsman, Prairie Style, Art Deco, Modern, Mid-Century Modern, Ranch Style and today's sleek, utilitarian LEED-certified "green" design, among many other architectural styles.
Ad blocker interference detected!
Wikia is a free-to-use site that makes money from advertising. We have a modified experience for viewers using ad blockers

Wikia is not accessible if you've made further modifications. Remove the custom ad blocker rule(s) and the page will load as expected.