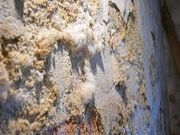 Efflorescence or formation of white powdery deposit on walls after painting is caused due to salts present in the building material like brick and mortar, which surface later on.
Prevention
Edit
Give a long time gap between plastering and painting (about 6 months including one monsoon) Use paint with a porous film like emulsions and distempers.
Wipe off the deposited salts completely from the surface and ensure no more deposition before recoating.