A chest or armoire can be a beautiful statement piece while adding ample function to many spaces in your home. The key is deciding which piece is right for you, what style you prefer, and what you plan to use it for. Once you've made those decisions , you'll be able to complement your décor with a practical and decorative chest or armoire of your choice.
What's the Different Between a Chest and A Armoire?
Edit
In general, a chest is made up only of drawers while an armoire includes drawers and a cupboard-like space for hanging clothing. 
Which One is Right for You?
Edit
This depends on your preference, needs, and the space available. You may simply like the look of one over the other, so survey several styles of each to see which you prefer. Has your closet provided enough room for hanging clothes? Then you may only need the extra drawer space of a chest. If you're deciding between the two in terms of size, remember that armoires are generally taller and generally have doors that swing outward. You'll want to consider these things when determining whether it will work in your desired spot.
Where Can You Use a Chest or Armoire?
Edit
Both are extremely versatile: there are uses for these pieces throughout the home. An armoire can be a great home for clothing in the bedroom, an entertainment system in the living room or even a computer in the office (drawers are replaced with a desk space in this instance). Chests can double as a buffet and storage space for tableware and linen in the dining room, or serve as a decorative piece in the hallway. 
What Style Should You Consider?
Edit
Chests and armoires are available in a range of styles, from antique to traditional to contemporary. Many modern armoires are adaptable to unique uses, such as housing an entertainment system or computer, while a vintage piece will add old-world charm to your space. Solid wood armoires are both timeless and durable, while a sleek metal chest will bring a chic, industrial appeal to your space.
What Size is Right for You?
Edit
Chests and armoires are big pieces of furniture, so you want to be sure you get the proportion right. Begin by determining exactly where you'll be placing the piece. Are you considering a chest for a small bedroom with low ceilings? Look for one of medium size: a bulky piece will be too heavy for the room. Next, think about what you'll be storing inside the piece. Do you need room in an armoire to fit a big screen TV and all your media components? Find one large enough to comfortably fit all of your electronics. 
How Can You Maximize the Use of Your Armoire?
Edit
Look for an armoire with removable shelving, compartments and clothing rods so it will evolve with your needs. You may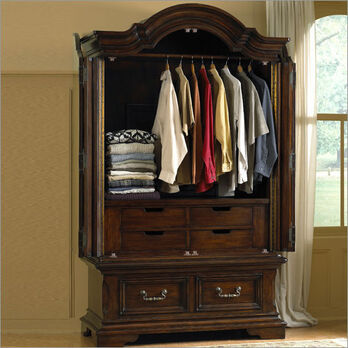 not even need drawers: in this case, consider a full-length wardrobe.