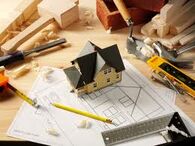 In home remodeling, the dining room is often overlooked. In some homes the dining room is poorly designed, with doorways positioned awkwardly, inadequate space to walk around the table and chairs and finishes that are simple and bland. Remodeling often means dramatic changes to room sizes, flooring types, ceiling treatments, the sizes of doorways and finishes. There are some good ways to include a dining room in a remodel that will make the room more attractive and more functional.

Connect the Dining Room to Other Rooms
Edit
Older homes often have dining rooms that are small and closed off from the other rooms near them. This was a common style at the time the homes were built, when entertaining was more formal. Modernize the home by widening doorways, removing doors and opening and connecting the dining room with the living room and kitchen. When possible, make the dining room larger by moving a non-load-bearing wall if the room is particularly small and adjacent rooms are overly large.
New Floors
Edit
Carpet is not the best material for a dining room floor. People spill food and drinks, particularly children. If the dining room is too precious, you may create an atmosphere of anxiety for children eating in the room. By replacing a carpet with hardwood or tile, this fear of spills can be reduced and the room can be used for daily dining. You can add an area rug to soften hardwood and tile, but pick a rug that is stain resistant with a busy pattern that will hide stains.
Some houses have too much of an open feeling and not enough definition between room areas. One way to solve this is by creating a feeling of room separation using ceiling details. A coffered ceiling works well for flat ceilings. False beams in a grid pattern are built over the area designated as the dining area. This creates a strong visual break while adding a formal touch. The individual ceiling panels also allow you to change ceiling color to further define the rooms.
Molding and Finishes
Edit
Refine a dining room that is a blank shell by introducing moldings. Many modern homes have tiny baseboards, minimal door and window trims, no chair railings or crown moldings. Each of these can be installed to add architectural detail to the dining room. Ceiling medallions can be mounted above the chandelier, and the finishes of the room can be detailed to create a room that is both elegant and formal. Moldings are available in wood and non-wood products to fit almost any budget.