Although the dining room is often an underutilized space, it always comes in handy when you're entertaining larger groups. Of course, a just-right table is the most important purchase, but other furniture pieces and accessories can help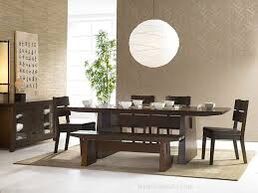 turn a blah dining room into a well-decorated, functional gathering place.
Make entertaining easy with a buffet table. When a dining room and kitchen are separate, going back to the kitchen for seconds can seem like quite a trek. Instead of forcing guests to make the move, bring the food to them by investing in a buffet table. With a buffet table or sideboard, you can place all the food in one spot so that guests can conveniently pick at their leisure.
Create your own home bar station. If a custom built-in bar is out of reach (and out of your price range), you can still get the same effect by piecing together your own bar station. A bar cart is a great option, because it's portable and can be conveniently squeezed into any corner. Just stock it with all the necessities — cocktail shaker, ice bucket, barware and alcohol of your choice — and your guests can just help themselves!
Dress up your dining room with table linens. When you're hosting a party, one of the best ways to add character is to pick the right table linens. During a formal dinner party, nothing says "elegant" more than ivory linen napkins, napkin rings and a satin tablecloth. On the other hand, it might not feel quite like Christmas without red and green napkins and a lovely Christmas tablecloth. By owning a wide variety of table linens, you will be prepared for everything, even your little kid's messy birthday party. Besides being above all practical, having a variety of napkins and tablecloths is a great way to bring some personality and decor to your table without seeming over the top.
Use mismatched chairs for a fun, contemporary approach. For a twist on the traditional dining room table and chairs, create a one-of-a-kind set by buying several different kinds of chairs. It will make your dining room feel less stuffy, warmer and more inviting. For even more variation, you can add a wood bench or an upholstered banquette.
Ensure that your dinnerware fits the bill. As with table linens, make sure you have dinnerware that complements a wide variety of events. You can store your fancy dishes and glassware in a corner china cabinet if you like, and only bring them out for special formal events. For a more laid-back finger-food party, substitute trendy appetizer plates , serving bowls and trays for the good china and traditional platters.