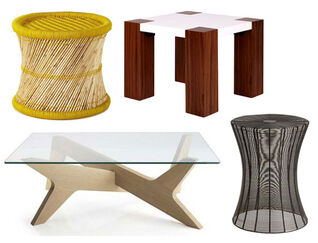 When you're looking to purchase living room tables , is it important to evaluate your space. While having one coffee table and two side tables might be standard, that popular choice might not be an option for you. Instead of cramming several pieces into an already tight room, try having just a coffee table or adding a space-efficient garden stool or tray table as a side table alternative. Ottomans with trays can make great coffee tables, because they provide a flat surface and extra storage, while a thin, long console table against the back of a sofa avoids using valuable space in the middle of the room. If you have some extra space to fill, add other accent tables throughout the room, such as a bar table for holding all your favorite adult beverages.
The material you decide on says a lot about your personal style, too. Darker woods are often seen as more traditional, while an industrial wood and iron look is usually more contemporary. Some materials can go with anything; depending on the frames, glass tables can be everything from traditional to modern, while distressed wood can be eclectic or shabby chic. While the look is important, also keep in mind what works functionally for you and your family. Glass tables might be dangerous for children and also attract fingerprints, while darker colors, especially black, easily show accumulating dust.Once you figure out your space limitations and layout, it's time to make design decisions. Buying a set of matching tables is often cost-effective and easy, especially if you are going for a more traditional living room feel. If you're looking for something more contemporary or eclectic, mix things up by using different materials and table styles, but be sure they match somewhat — several wood tones or too many random colors can make the room appear disjointed.
Ad blocker interference detected!
Wikia is a free-to-use site that makes money from advertising. We have a modified experience for viewers using ad blockers

Wikia is not accessible if you've made further modifications. Remove the custom ad blocker rule(s) and the page will load as expected.