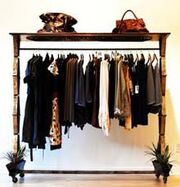 If closet space is an issue for you (or is simply non-existent), purchasing a clothes rack is a great way to add some extra storage and organizational options for your garments. 
While the word clothing rack may stir up mental images of metal racks from department stores, clothing racks today come in a wide variety of styles and materials, with numerous organizational features that can help your clothing situation become even more organized. 
If you have a decent amount of closet space, try looking into a rack that can be installed into your closet. Integrated closet organization is always ideal since it's sturdier and can add to the overall value of your home. If you're a renter however, something that's a little less permanent might be a smarter option. Clothing rods can be bought and installed into a small closet space for built-in and/or adjustable clothes storage. There are also some expandable options that can be put in and removed without the hassle of screws and hooks .
Portable clothing racks can be used in a home with or without closet space, and can be particularly useful for renters. Available in numerous finishes and styles, as well as set sizes and adjustable versions, a portable clothes rack is a simple way to get more space for those items that need to be hung up. It's also a great option if you don't want to invest in a chest of drawers. Many items can be hung on a hanger, while socks and intimates can be stored in bins . 
Before purchasing a clothing rack (whether it's adjustable, portable, or installed), make sure to measure the space where you want to put it, and determine whether or not you'll be able to fit the amount of clothes needed in that space. If there's not enough room, you may have to consider buying a coat rack, hooks, or other small-space clothing storage solutions