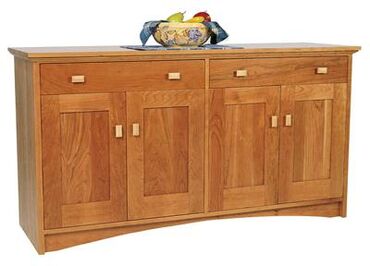 Buffets and sideboards are essentially the same thing: The French defined a buffet as a small sideboard used for storing dishes. The terms are often used interchangeably, but regardless of what you want to call it, buffets and sideboards continue to be stylish and functional additions to the dining room. Choose one with a dramatic length capable of a true buffet, or one with a wine rack (also called a cellaret), for easy access to wine.
If you're searching for the perfect buffet, think about the following:
What Size Should You Consider?
Edit
Take into account the overall size of the room, the size of your dining table, and the size of any other furniture you have in the space. In general, buffets are large, heavy pieces, so be sure yours balances the room instead of overpowering it. 
What Style Should You Choose?
Edit
Sideboards date back to the 18th century, but today's selection includes contemporary and modern styles in addition to antiques. When considering a style, take into account the theme that your dining room currently represents and try to find something that will complement it. A splash of bright paint on an antique will create a contemporary edge, or an all-white mid-century piece may add an interesting contrast to a modern table. Choose a buffet with some open shelving if you'd like to keep favorite items accessible and/or on display. For the items that you'd like to keep behind closed doors, cabinetry in glass, frosted glass, finished rubberwood or hand-painted oak are all great options, depending on your needs. Consider sliding cabinet doors to avoid getting in the way of foot traffic.
Should You Choose a Buffet with a Wine Storage?
Edit
Cellarets are cabinets in the buffet used for holding wine bottles and decanters and allow the buffet to double as a bar. If you spy a buffet that you love that doesn't come equipped with a cellaret, simply add a wine rack to get a similar effect.
Where Else Can You Use Your Buffets?
Edit
Don't feel like your buffet must be confined to the dining room. Use one as a dresser in the bedroom or for storage space in a home office. Pair one with an oversized mirror or dramatic piece of artwork to play up the drama in a hallway.
What Should You Put in Your Buffet?
Edit
Use your buffet for anything that makes serving in the dining room easier. Think dinnerware, glassware, flatware, linens, china, candlesticks, extra salt and pepper shakers, and decorative knickknacks.