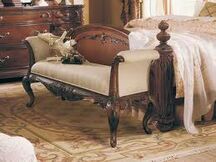 If you find yourself with excess space in your bedroom or simply if you need a spot to rest aside from your bed, a bench could be just the solution you're looking for. A bench is a great way to add an extra hint of style, seating, and storage, and they are available in a range of styles and sizes to complement your current décor. 
Why Might You Consider a Bedroom Bench?
Edit
 A bench can provide both style and function to your bedroom. Beyond its most obvious use of extra seating, benches can provide a place to lay out clothing or balance out the room's furnishings. Add one at the end of the bed for a complementary touch that will fill up unused space, or place one beneath a window to enjoy the view. Need extra storage? A bench is a great solution: find one with a hinged lid and tuck away extra linens and blankets. 
What Size Should You Look for?
Edit
Think about where you want to put it in your bedroom. A bench should fall in line with the furnishings, not overpower it. If your bedroom décor is light with fine lines, look for something slim, like an empire bench. If your furniture is heavier, go for a fuller bench that has a body for storage. Make sure the height and width is in proportion to the surrounding furniture.
What Style Should You Consider?
Edit
Consider your current bedroom décor to help make this decision. If it's contemporary, choose a bench with sleek lines and stainless steel legs. If it's more traditional, go for a wooden bench with ornate carvings. Simply want something comfortable? Find a bench with plenty of cushioning that can double as a relaxing place to sit.
How Should You Choose the Right Upholstery and Color?
Edit
Benches tend to get a fairly good amount of use, so choose an upholstery that's as durable as it is stylish. Leather is a great choice, as well as cotton or twill. Color is a personal preference: choose either a neutral that will blend in with the rest of your bedroom, or a bright color to serve as a visual accent.