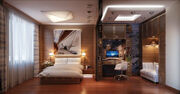 Our private sanctuaries where we retreat to every night and escape the stresses of the outside world. Throughout our lives, our bedrooms are intimate and personal spaces where we first learned to sleep alone, where we first learned to not sleep alone, where we wrote our deepest thoughts and hid them under the mattress, where it was ok to talk to ourselves out loud and where we all probably made our first design decisions. Beyond bed skirts and bolsters, see how great design decisions turn into great design ideas.
Ad blocker interference detected!
Wikia is a free-to-use site that makes money from advertising. We have a modified experience for viewers using ad blockers

Wikia is not accessible if you've made further modifications. Remove the custom ad blocker rule(s) and the page will load as expected.