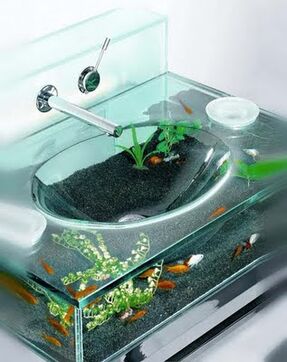 Sinks are yet another functional bathroom necessity that can really amp up the style of your overall bathroom theme. Today's market has moved past the stereotypical white, round sink and opened the door to an endless array of options perfect for tiny powder rooms or luxurious master bathrooms. Regardless of your needs, you should first think about amount, style, size, and materials to round out your decision.
How Many Sinks Should You Consider?
Edit
This entirely depends on which bathroom you're buying a sink for. A guest room, which is only used occasionally, is likely fine with one. However, two may be more fitting for a master bathroom to accommodate all who may be using the space at the same time.
What Style Sink Should You Purchase?
Edit
Sinks are a great place for a design accent, so feel free to choose a contrasting color or finish to that of your bathroom. Or, go with something complementary to complete the theme. In terms of shape, it's your personal preference: you can pick from round, oval, rectangle, square or asymmetrical designs, as well as sinks angled to fit into the corner.
What Size will Work in Your Bathroom?
Edit
Maximize available space by choosing the largest sink that your bathroom will allow. In terms of depth, remember that the deeper the sink, the less chance the water has of splashing out.
How Should I Decide on a Material?
Edit
Not only is the list of available materials a long one, but each comes with its own benefits and disadvantages. Do you want something that will appear better with age, but will cost more? Consider copper or bronze. Are you looking for something that's lightweight and contemporary, but may chip easily? Maybe enameled steel is your best bet. It's best to review all the options while also taking into account your needs and style likes when considering this decision. 
What is Best in a Smaller Bathroom?
Edit
Floor space is limited, so freestanding sinks are best as they provide style and function without taking up too much space. Consider a pedestal sink for a range of styles, although this option may be more expensive. A vessel sink can double as a statement piece, but be sure it's installed at the right height so it's comfortable to use. Wall-hung sinks are affordable, easy to install and great for accommodating wheelchairs. 
What Type of Sinks Best for Larger Bathrooms?
Edit
 If you've got the space, vanity-mounted sinks are the most advantageous option since the vanity provides you with storage. Self-rimming sinks are dropped into a hole in the countertop and can be matched to the faucet to create a seamless look, but are sometimes harder to keep clean. Integral sinks are molded from the same material as the countertop, but if the sink or countertop is damaged, the entire unit will need to be replaced. Installed beneath the countertop, under-mounted sinks make the countertop the focal point.