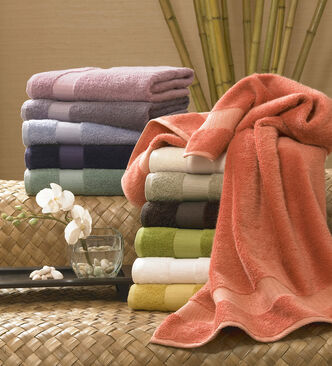 Sanitary bars and trapways help your bathroom work more smoothly. Sanitary bars block liquid from collecting under the tank at the back of the bowl, while glazed or larger trapways will decrease clogging.
When purchasing new bath linens, it's important to make sure they don't clash. Although the towels and bath mats don't need to be matchy-matchy, they should be complementary colors or include only one pattern; after all, you don't want the room to appear too busy or overwhelming, especially if it's a small space. It's also important to keep the material in mind; some towels and bath rugs dry faster than others, while thicker materials can take a while to dry but are softer and more luxurious. When shopping, keep in mind what you prefer and stick with what you like.
Once you have the perfect towels and mats, be sure to pick out a shower curtain that blends well with your other colors. Even though there are a lot of beautifully patterned shower curtains out there, be wary: Because of its larger surface area, a complex, multicolored curtain can appear gaudy or over the top. Before throwing away that receipt, make sure it doesn't too much color for the room. And when you've found the perfect fit, keep it nice and clean for years to come by purchasing a shower liner to act as a water barrier.